Why Choose A Modern Bioclimatic Pergola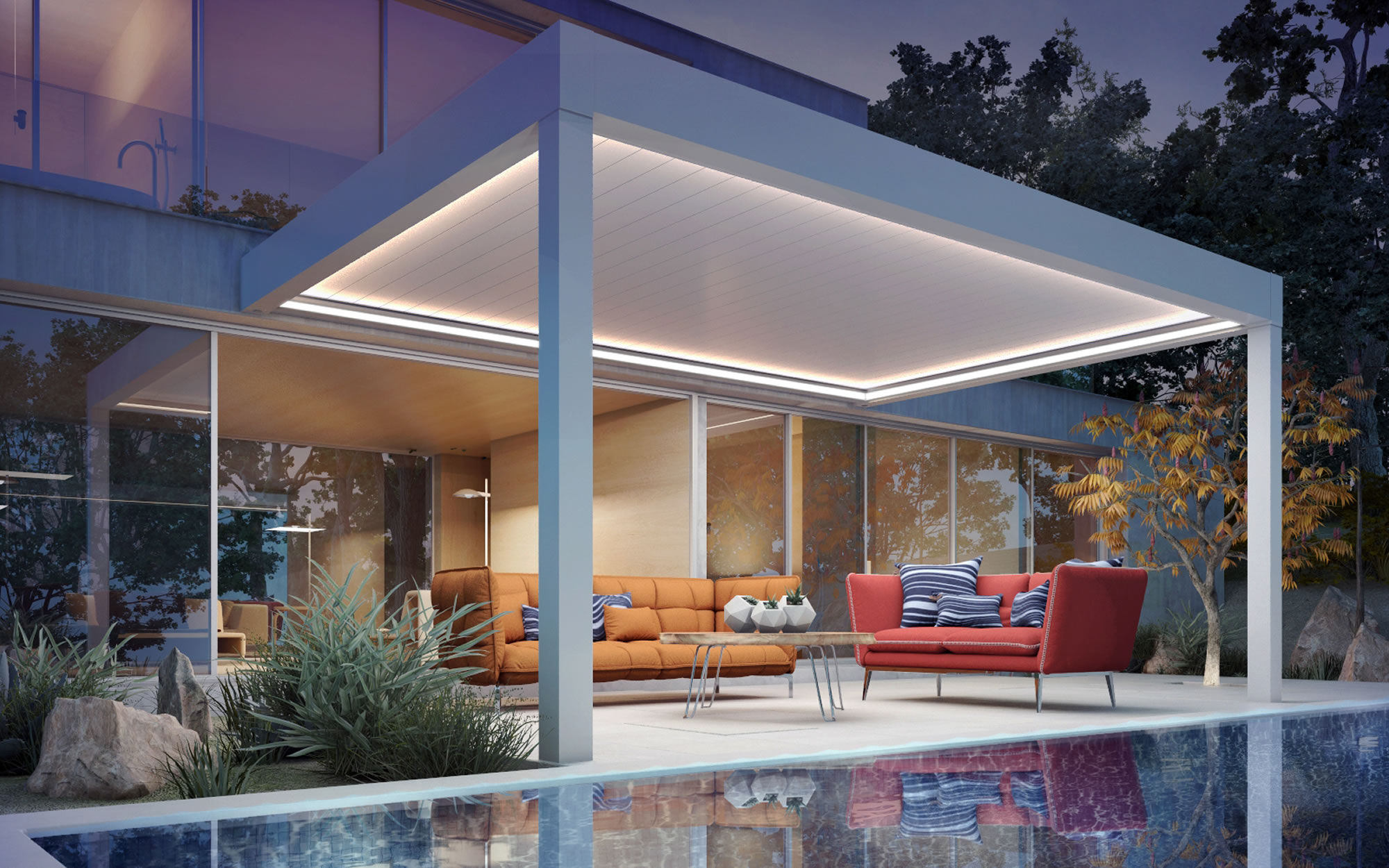 These kinds of pergolas had been a famous preference for many years
When it comes to garden design a pergola is an attractive feature to implement as it serves as a dedicated shaded outdoor living area to relax in and it provides an aesthetic appeal to your external space. Most traditional wooden pergolas can be made bespoke to your requirements to coincide with your landscape design but are these traditional wooden pergolas enough anymore?
The material the traditional pergolas are made from can be its main vulnerability if this is not maintained and treated. Wood being the main factor of this structure means when it is exposed to the outside elements it can have a detrimental effect causing the wood to rot over time and eventually made irreparable. 
The traditional wooden pergola is a garden feature that has been solely designed for summer purposes as it is unable to be flexible for your needs, if you are looking for a simple summer solution then this is a cost-effective viable option. What if we told you you can get more from a Modern Pergola? A pergola with an automated roof that you can control.
The bioclimatic pergola is a long term investment that will transform your living space and your lifestyle. Its automated watertight louvered roof combined with integrated weatherproof side screens means that you can essentially create a whole new external living space that can be used all year round, not just for summer.
3 Reasons Your Business Needs A Pergola
3 Reasons Your Business Needs A Bioclimatic Pergola
With the warmer weather, most businesses can expect to see a rise in customers, especially restaurants and cafes that offer a patio dining option to their guests. Here are just a few reasons why your business needs a louvered pergola this spring: Get rid of retractable awnings references in this post. 
They are different from louvered pergola's and have no reason for being mentioned. If we are talking about louvered systems then they are the only items that should be mentioned
Protection From The Weather
Bioclimatic pergola system protects your guests from harmful UV rays and inclement weather while still allowing them the option of sitting outdoors on the patio to enjoy their meals. Whether the weather outside is hot and sunny or gloomy and rainy, a louvered pergola will help to increase your sales by giving your guests more space and focusing on their comfort for peace of mind.
Provide Ventilation Control
Bioclimatic pergola system allows as much or little air as you want through your outdoor space with the turn of a louver. Prevent heat building up while providing shade for you and your guests, or let the sun shine through and bring some fresh air. The choice is up to you!
Adjust The Brightness Level
Manipulate the intensity of sunlight entering your outdoor space by installing a bioclimatic pergola. Some of your guests might enjoy the opportunity to get out of the shade and give their eyes a break from the sun. Your guests can also best enjoy your outdoor space in low-light hours by opening your louvers, presenting a perfect balance in brightness level.
What Is A Pergola and What Is It Used For?
What Is A Bioclimatic Pergola
The purpose of this article is to define what a pergola is, what it is used for, and to distinguish it from some of its architectural garden-dwelling cohorts, including arbors and gazebos.
To kick things off, here is a picture of a pergola just to provide a visual reference.
This pergola is not closed and seems to have an almost "unfinished" look depending on how you look, as it has a more minimal structure.
Your ordinary garden variety pergola is quite large in size, wide and rectangular both vertically and horizontally. The lower area defined by the pergola opens the door to many possibilities.
The truss at the top where the cross beams intersect is not absolutely necessary. Simply, it can have one-way cross beams without a truss like above:
As you can see from the example above, pergolas can be raised above the ground as long as they have a surface on which to sit.
Visually, bioclimatic pergolas are usually large enough to be striking when people see them, they visually attract their attention, and can be produced aesthetically in many different designs and colors.